FORD ATX - LOW/REVERSE BRAKE HUB SNAPRING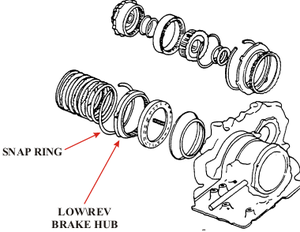 The ATX low and reverse brake hub snap ring is not used when the transaxle is initially assembled at the plant. When servicing the ATX low and reverse brake hub, technicians may install a snap ring (E7GZ-7D483-8) to aid in assembly of the transaxle, however the snap ring is not required.
FORD ATX - CONVERTER ADAPTER SLEEVE FROM "FLC"
1987-88 Tempo Topaz only use a converter adapter sleeve, Part Number E7FZ-7A878-A. This sleeve has two internal splines and one external spline. (See Figure 2) Since this is a slip on adapter, it can stay engaged in the torque converter turbine hub upon removal of the converter from the transmission. If this adapter IS NOT reinstalled on the transmission (turbine and intermediate shafts), a NO DRIVE CONDITION WILL BE THE COMPLAINT AFTER INSTALLATION. (See Figure 3)
At last, find some obd2 scanner like elm327 bluetooth to know more from www.vtoolshop.com.