FORD E4OD - delayed forward engagement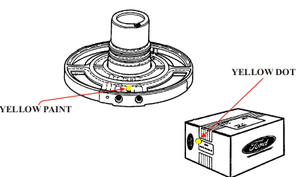 Delayed forward engagement and/or burnt forward clutch after installing ford center support service kit f4tz7a130-b
COMPLAINT:
Delayed forward engagement and/or prematurely burnt forward clutch plates may be evident on vehicles which have had the new Ford Ball Bearing Center Support Kit, OEM part number F4TZ-7A 130-B.
CAUSE:
The cause may be, forward clutch oil leaking between the steel hub and the aluminum support ring because of mis-machining of the aluminum support ring in the area where the steel hub bolts to it.
CORRECTION:
Install a new Center Support Service Kit, F4TZ-7A130-B, that has yellow paint on the wide leg of the center support as shown in Figure 1, and a yellow dot on the shipping carton as shown in Figure 1. There was no part number change and Ford has since recalled and reboxed the defective.
For more technical service and other car diagnostic tool like elm327, you can visit www.vtoolshop.com.